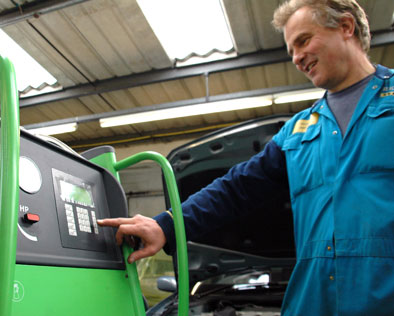 Call us today on
01326 373825
Millers Renault Falmouth,
Tregoniggie Industrial Estate,
Falmouth, TR11 4SN
Car Air Conditioning An estimated 10% of Air-Con gas permeates from the system every year. Air-Con systems need recharging with gas & lubricant every 2 years. Weather this summer is a scorcher or a washout, your car's air conditioning system needs looking after, just like the rest of your vehicle. Over 65% of vehicles are fitted with air conditioning and climate control systems as standard these days. Many of us are familiar with using air-con in our car on both hot and cold days, but not many people are aware that like other parts of your car, the air-conditioning system also needs regular attention to make sure it is working efficiently. You may not be aware that over 10% of air-con gas permeates from the air-con system every year, which means that it may not work as well as it should. This is why car manufacturers recommend your Air-Con system is service with gas and lubricant every 2 years. This service is not part of routine vehicle servicing, so if your vehicle is more than 2 years old it's probably due a service.
What is an Air-Con service? A service is a full service of your air conditioning system by trained technicians, this includes checking pressure in system, assessing for leaks before adding fresh gas, removing the air con gas, cleaning of air con system internally, adding the new gas with a ultraviolet UV dye, a cleanse of the evaporator and testing operation of system. We offering a complete air-conditioning service from only £69 (which will include, free, a 25-point safety check).
If your Air-Con system has not been recharged in 2 years it will dramatically reduce efficiency. During the hotter summer months motorists use the Air-Con system more; however your system is also useful in winter. Air-Con systems create dry warm air rather than the normal humid air from outside and this de-mists your car windscreen more quickly. Sometimes when Your A/C system stops working, there is a leak in the A/C system, our Renault technicians are trained to check for leaks in system. Should a leak be identified we would contact the customer to see if they would like us to investigate further rather than just topping up gas. To keep your Air-Con system fully serviced all year, call Millers Garages Falmouth on 01326 373825 or Contact us Gross placed the stress on the second syllable.